Cables
There are so many different computer cables and adaptors available these days. PCs, laptops, Macs, mobiles and peripherals each have an array of different connectors. Therefore choosing the right adaptor can become really confusing. At User2 we have the vast majority in stock and the expertise required to help you get connected. The following guide will point you in the right direction.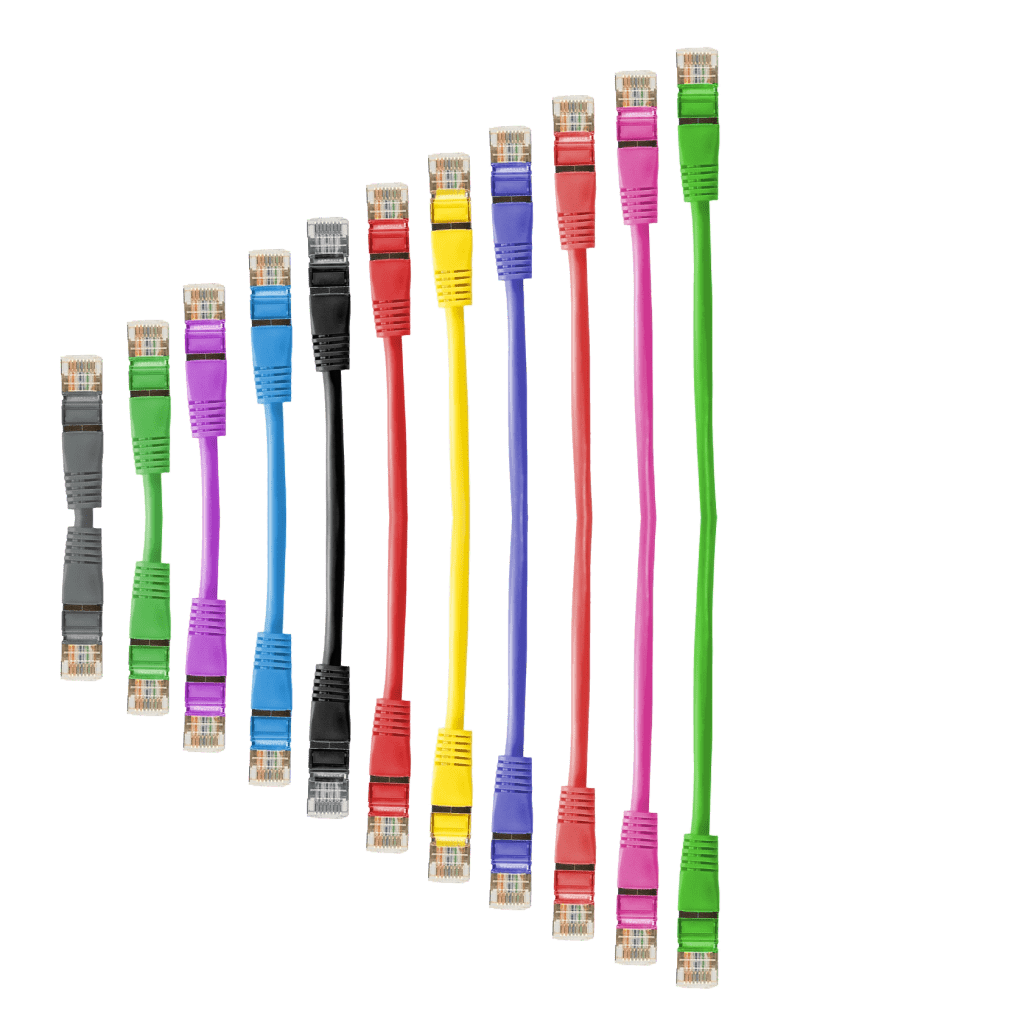 01.
Power cables
Kettle Lead (PC and monitor), Clover Leaf (laptop PSU), Figure 8 (laptop PSU), Kettle Lead pass through (UPS and kettle lead extension), surge protectors and socket strips.
02.
Charging cables
Micro USB (Android tablets / phones), Mini USB (older external HDDs and other devices), USB C (latest
Android and Apple devices), Lightning (iPhones / iPads) Apple 30 Pin (older Apple devices).
03.
USB data cables
USB A-B (Printer), USB 3 – USB 2.0, USB 3 – USB 3 Micro B (External USB 3 hard drive), USB Extension Cables (Type 2.0 or 3), USB C
04.
Monitor/Display Cables
VGA (standard monitor), DVI-I (Analogue DVI connection), DVI-D (Digital DVI connection), HDMI, Mini HDMI, Micro HDMI, DisplayPort, Mini display port (mainly Macbook – sometimes referred to as Thunderbolt).
05.
Monitor/Display Adaptors
Any combination of the above cable connections to one another. VGA to DVI-I, HDMI – DVI-D, DisplayPort to HDMI, USB C to HDMI etc. Combinations are countless! Also scart blocks, component video and other legacy cables.
06.
Network cables
From 0.5m – 30m CAT 5e network cables. Also solid core CAT 5 and CAT6 cables in stock sold by the metre, network couplers, network back boxes, faceplates and modules all in stock.
07.
Audio cables
3.5mm audio, 3.5mm to phono cables, 3.5 – 6mm adaptors, audio splitters.
08.
Firewire cables
4pin, 6 pin and 9 pin or any combination
09.
Broadband cables
ADSL Cable (ADSL filter to router 2m – 20m), ADSL Filter (plugs into the BT socket), Virgin cable connection (screws into the wall/router).
10.
Telephone cables
Extension cables from 2m – 20m in store.
11.
Internal PC cables
Sata power and sata data, molex power splitters, 3 or 4 pin fan cables, to name a few.
12.
Legacy cables
Serial, Parallel, IDE, PS2, gender changers, Scart and many more in stock.
Do you need more advice and guidance?
If you're still in doubt, come into the store with details of the devices you are looking to connect and we'll get you sorted.
Call us now on 0131 662 9955 or email [email protected]